01 June 2020
Metropolitan Manila (NCR) and several other regions in the Philippines have transitioned to GCQ (General Community Quarantine) starting today, 01 June 2020.
Under General Community Quarantine (GCQ):
More establishments are allowed to re-open. Operation of select industry sectors between 50% – 100% workforce;
Government offices remain on work from home or alternative work arrangement. Appointment-system will be in place to prevent crowding and maintain social distancing measures in the respective offices;
Quarantine passes are no longer required but travel must be limited for essential needs;
Select mass transportation are allowed to operate at limited capacity observing social distancing measures, while private employers are required to provide shuttle services for their employees reporting on skeletal work force. International and domestic flights remain restricted.
Suspension of school classes remain until further notice.
Where are we now?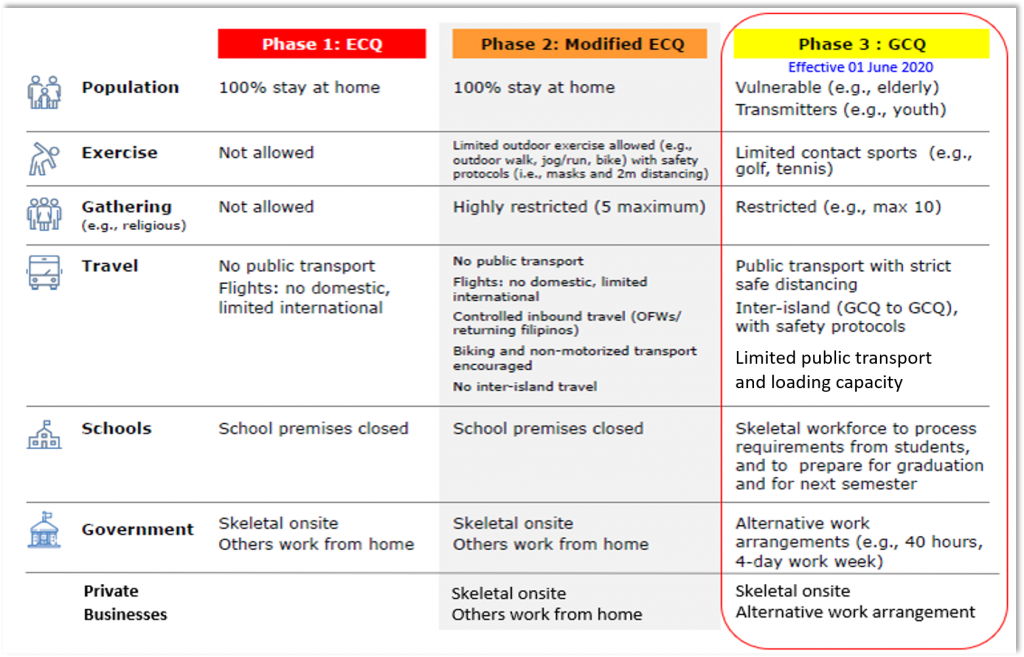 Source: Presidential Communications Operations Office (PCOO)
IMMIGRATION & CONSULAR
Government offices will continue to operate on a lean workforce (skeletal, work from home, or rotational deployment). However, to comply with health standards and social distancing measures, offices such as the following are employing online / email appointment system:
Department of Foreign Affairs
Bureau of Immigration
Department of Labor and Employment
Impact to our Assignees:
Outbound Travel
Foreign nationals who decide to return to their home country may leave. However, outbound international flights will be reduced to weekly flights.
Inbound Travel
Inbound flights will remain restricted at the Ninoy Aquino International Airport (NAIA) until 10 June 2020 accommodating 400 passengers a day. Commercial flights will be allowed on Tuesdays and Wednesdays, Fridays through Sundays, upon receipt of approval from CAAP (Civil Aviation Authority of the Philippines) 48 hours before the scheduled departure from the airport of origin.
Exempted from the restrictions: enroute flights experiencing an emergency, cargo flights, air ambulance, military flights, weather mitigation flights, maintenance flights.
Immigrant and non-immigrant visa holders (13, 9(d), 9(f), 9(g), 47(a)(2) EO 226 visas) returning to the Philippines to work (Inbound) who have decided to leave the country in the wake of this lockdown shall not be allowed to enter until the GCQ has been lifted.
Foreign nationals under the visa waiver agreements, those permitted visa-free entry for periods ranging from 14 to 59 days, as well as those with temporary 9A visas issued by Philippine Foreign Service Posts will still not be allowed entry into the country.
OFWs (Overseas Filipino Workers) / returning Filipinos including their foreign spouse and children will be allowed to return to the country.
Foreign nationals should postpone travel to the Philippines until the lockdown has been lifted.
Upon arrival in the Philippines
Inbound foreign nationals and Filipinos are subject to strict immigration and quarantine protocols.
Arriving passengers will undergo a SWAB test by a trained personnel from the Bureau of Quarantine (BOQ). While awaiting results, passengers will be required to stay in a government-designated stringent quarantine facility or in a BOQ-approved hotel.
Foreign-nationals will pay for the cost of their accommodation and may choose from among the approved quarantine facilities and hotels.
Travelers who tested positive will be transferred to a designated hospital for further medical management, while those who tested negative will be allowed to move out and undergo a 14-day quarantine at home or at an appropriate monitoring facility.
Digitized arrival cards (new paperless travel control systems and procedures aimed to lessen person-to-person contact between officers and passengers and help facilitate contact tracing) will be implemented for passenger monitoring due to COVID-19.
Face to face appointments will be conducted only after the required 14-days quarantine.
Enforced strict social distancing, use of facial mask, and frequent disinfection is required.
NOTE: The information we receive is constantly changing or being updated. Updates will be relayed to you accordingly.